It's been a slow year for growth for the CDP market, as the industry navigates economic headwinds and tighter market conditions.
According to the CDP Institute's July 2023 Industry Update, the first half of 2023 saw belts being tightened across the industry as a reduction in new funding led to fewer new players, enabling industry leaders to solidify their leadership and expand their market share. The top 25 percent of CDP companies now average 5.5 times more employees than the lower 75 percent, and have 12 times more funding per company.
Overall, the CDP Institute estimates the industry will reach $2.3 billion in revenue, up from $2 billion in 2022.
Despite challenging economic conditions, only one vendor left the industry, and there was one small acquisition. Small firms appear to be holding tight as well. This speaks to the importance of customer data management to the success of the modern business.
Organizations with a CDP are able to use quality data to make more informed decisions, optimize their marketing budgets, and drive real ROI for the business. Brands that use a CDP for mission-critical data initiatives will be better prepared to navigate the challenging waters in 2023 and beyond.
CDPs Create New Value for Companies
Companies with CDPs are showing measurable improvements and results from the effort. According to research from Advertiser Perceptions, 65 percent of business leaders believe their CDP will become even more important over the next year, as organizations explore how to expand their use of the platform beyond baseline marketing and data applications. CDP adopters say they expect their investment to deliver better operational efficiencies and improve direct-to-consumer relationships.
Beyond helping marketers run more effective and efficient campaigns, CDPs helps global brands stay in compliance with evolving international and U.S. data privacy regulations. And, let's not forget the depreciation of third-party cookies, which represent 40 percent of global online traffic, that's prompting companies to develop ways to fully own their first-party data. Data security, data privacy, enhanced analytics, the ability to understand customer journeys, and ease-of-use, are the top CDP selection criteria.
All of this translates to improved ROI and more revenue for brands. According to Advertiser Perceptions, companies begin to realize the full value of their CDPs over the first eight months of deployment.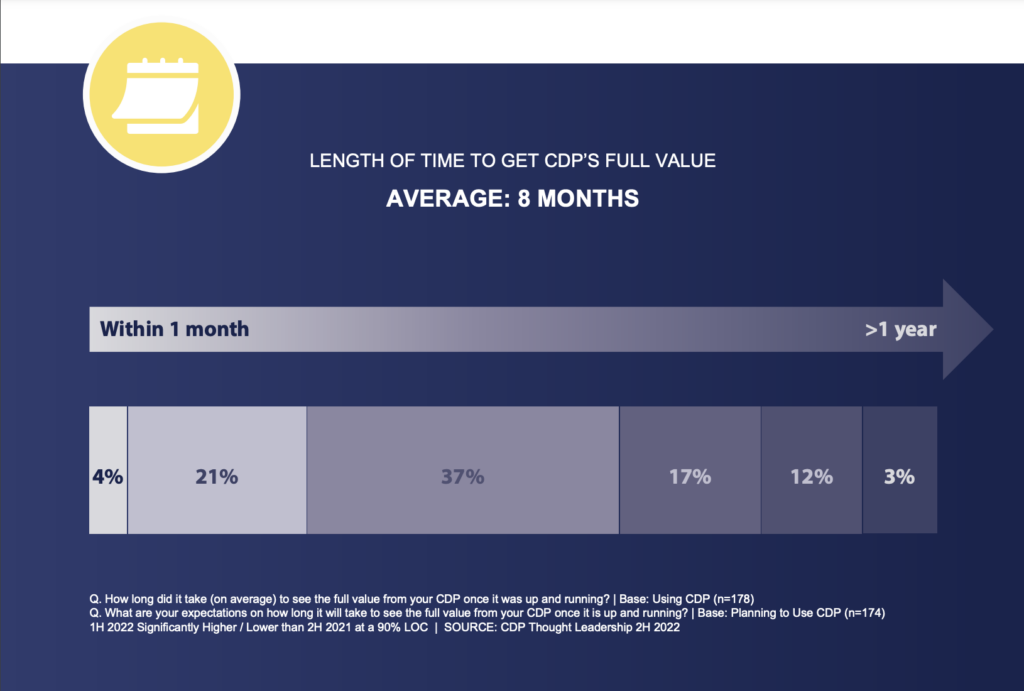 While companies see initial benefits from their CDP deployment quickly, they can expect more types of benefits as their level of digital maturity increases. As organizations continue to scale their CDP use cases, brands can see even more advanced actionable insights from AI/ML, increase marketing's independence from IT, and improve first-party data ownership.
But, CDPs do not come without significant investment, depending on your needs and industry. According to the CDP Institute, small businesses pay around $5,000 per month for a CDP installation, with enterprise organizations seeing paying over $1 million per year for mature solutions at scale.
The Future of the Customer Data Platform
While CDP employment and M&A activity has slowed down, the importance of CDPs to digital transformation and technology and business modernization is not diminishing.
Organizations are using CDPs to meet overall marketing objectives, not just discreet tactics. CDPs are quickly becoming the de-facto standard in centralized customer management for data-driven businesses that need to deliver value to their customers while meeting compliance requirements.
CDPs are not just about optimizing ad campaigns or meeting regulatory requirements anymore. They are now generating real ROI for the business, and that can be measured in a matter of months, not years.
Learn more about the CDP market and industry trends: