A customer data platform (CDP) is a customer data management solution that consists of a centralized database that has the ability to ingest, integrate, manage, and deliver customer data to other technology solutions in order to personalize the customer experience (CX).
CDP software collects and integrates all forms of customer data with the intent to create a unified customer profile (also known as a single customer view (SCV). This unified view can then be used to align all business efforts around a single source of customer truth. CDPs can collect consumer behavior, demographic, and transactional data to track and analyze customer interactions with your organization.
CDP platforms were created to manage first-party, second-party, and third-party data from multiple disparate channels, unite customer-centric efforts across marketing, sales, and customer service. CDPs also give brands the ability to centrally manage data and consent attributes to stay in compliance with emerging data privacy regulations.
What Does a CDP Do?
A CDP improves the efficacy and efficiency of your data-driven marketing campaigns. They accomplish this by deploying data-driven insights to tailor personalized experiences at scale.
1. Combining Structured and Unstructured Data
CDPs allow you to combine structured, unstructured and semi-structured data to create single customer view. A CDP can ingest data from any source, including email, social media, loyalty, and systems like enterprise resource planning (ERP), customer relationship management (CRM) and data management platforms (DMPs). Customer data platforms can analyze and segment customer profiles using rules or machine learning, perform predictive scoring, and provide customer journey orchestration.
Read More: Structured Data Vs. Unstructured Data, Explained
2. Integration with the MarTech Stack
Customer data platforms are designed to easily integrate with the rest of your technology stack through either pre-built connectors or application programming interfaces (APIs). This allows CDPs to function as a smart hub, making your technology stack more agile, flexible, and scalable by allowing you to plug in the best-of-breed software for your particular industry and applications
Read More: How To Integrate A CDP Into Your MarTech Stack
3. Democratization of Data
CDPs allows data to be democratized so it can be used across the entire organization (marketing, sales, customer service, support, etc.) A CDP allows a business to tailor its communications and build lasting relationships with customers that improve retention rates and lower churn. CDPs are also a great way to reduce customer acquisition costs in favor of higher retention rates.
Read More: How To Achieve Data Democratization With A CDP
4. Marketing Activation and Personalization
A CDP makes customer data available to other systems for campaign activation with insights that improve the customer experience across the entire omnichannel customer journey. CDPs allows marketers to apply advanced personalization, identify and segment key target audiences, provide relevant product and content recommendations, and implement retargeting programs.
Read More: How To Provide An Exceptional Omnichannel Customer Experience
How Does a CDP Work?
A CDP connects to a wide range of technology platforms, data sources and channels by using built-in connectors, SDKs, webhooks, and APIs. They ingest and integrate data from multiple disparate sources, including profile data and real-time interaction data (behavioral data, transactional data), campaign data, product data, customer support data, mobile, POS, marketing, device, and internet-of-things (IoT) data.
A customer data platform ingests and integrates those data sets to create a single unified customer profile. This integration process is called identity resolution or data unification. Customer identity resolution includes sophisticated algorithms to stitch identifiers from multiple systems, as well as automate graph creation and continuously unifying data into a profile as customers engage in real-time. During the unification process, data is validated, cleaned, and de-duped to create a single customer view. Profiles are then enriched with first, second, and third-party data sources to fill in missing attributes and update other attributes with more recent information.
CDPs can also analyze and segment customer profiles using rules or machine learning, perform predictive scoring, and journey orchestration capabilities. Some more advanced CDPs provide machine learning (ML) and artificial intelligence (AI) for predictive analytics and audience segmentation. With customer journey orchestration capabilities, marketers can analyze customer interactions throughout the entire customer journey to deliver the right message, at the right time, on the right channels.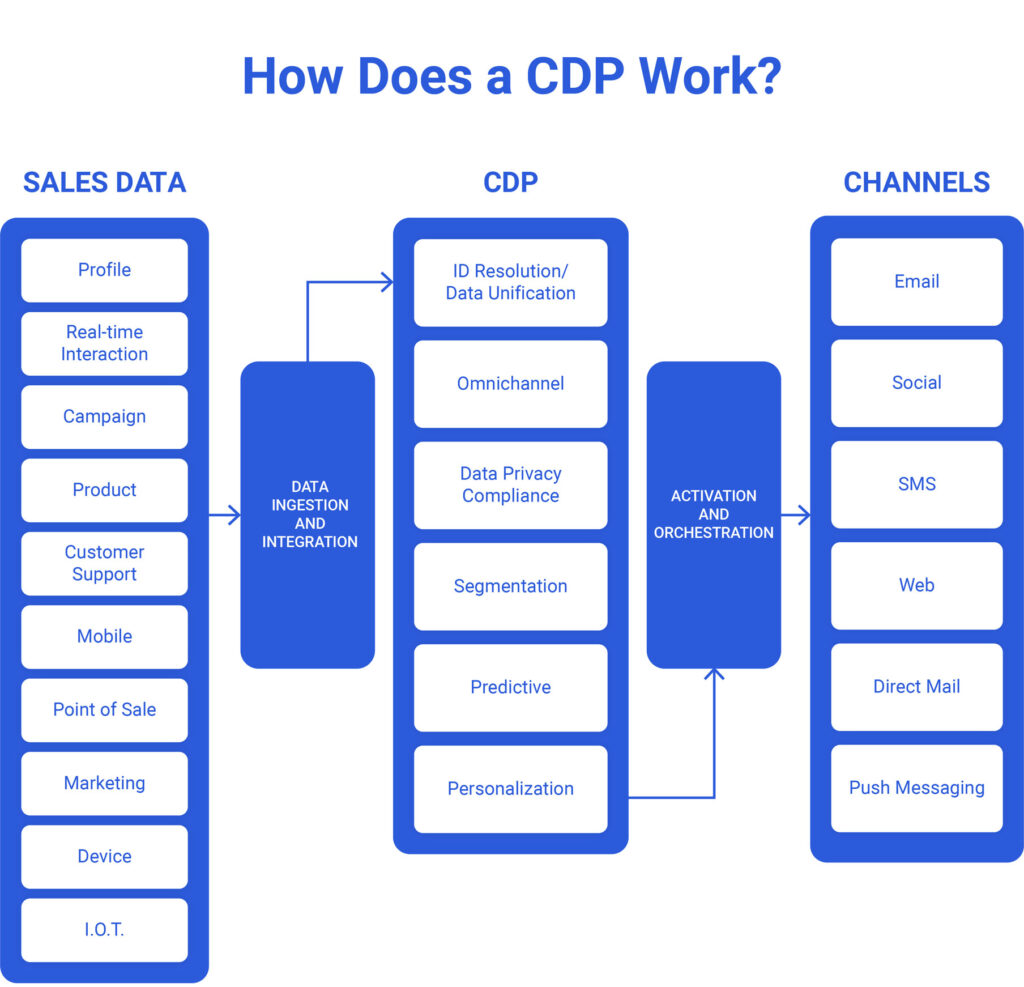 What Are the Most Common CDP Use Cases?
The two most common CDP use cases are personalized customer experiences and targeted advertising. Other common CDP use cases include:
Profile Unification: Customer data records can be combined into a single 360-degree view of the customer, allowing you to do more effective personalization and reduce ineffective ad spend.
Segmentation: A CDP allows marketers to identify and target high-value audiences with advanced segmentation capabilities.
Data Unification: CDPs unify customer data into a single customer identifier that can be enriched over time, reducing duplicate profiles and inaccuracies.
Predictive Scoring: Marketers gain the ability to predict customers behaviors, like who is likely to churn, purchase, click, or convert.
Retargeting: A customer data platform can improve retargeting by connecting customer data to advertising data, creating optimized audience segments, with the ability to automate activations.
Customer Journey Optimization: Iterative insights allow marketers to quickly test, learn and improve marketing efforts across the entire omnichannel customer journey.
Next-Best Action: Next-best action relies on robust customer data, analytics, and artificial intelligence (AI) to predict the next-best step sales, service, or marketing teams can take to improve the customer journey and increase conversion.
Programmatic Advertising: CDPs enable you to target customers better with programmatic advertising.
Lookalike Modeling: Advertise across channels to both knowns and unknown audiences with lookalike modeling based on key audience attributes.
Customer Loyalty: Measure and predict customer loyalty, and customize communications to increase the lifetime value of your most loyal customers.
Personalization: Once segments and audiences are identified, marketing, sales, and customer service teams can tailor messaging that speak directly to target audiences, and delivered through the right channel, at the right time.
Data Governance: A CDP enables IT and data teams to enforce data access policies and permissions across teams, ensuring that specific teams only have access to the data that they need.
Consent Management: CDPs can integrate with consent management solutions, allowing customer data privacy preferences to be integrated directly into unified customer profiles.
Demand Planning and Inventory Management: With predictive analytics, organizations can use customer purchase preferences, transaction data, and inventory data to predict demand and manage inventory mix across channels.
Business Efficiency: A strong customer data foundation foundation forms part of the blueprint for accurate attribution, making forecasting more effective.
What is the Difference Between a CDP and Other Data Management Solutions?
There can be some confusion over the differences and benefits of a customer data platform (CDP) versus other data management solutions, like a data management platform (DMP) a customer relationship management (CRM) platform, a data warehouse, and data lakes. While they all manage customer data in some capacity, they are all built for different purposes and have some significant variations.
What is a CDP?
A customer data platform (CDP) is a centralized customer database that builds unified profiles from data it collects across any number of disparate data silos. A CDP then delivers combined data out to other solutions in the technology stack to affect the customer experience.
What is a DMP?
A data management platform (DMP) is a software tool used primarily in advertising and marketing to build profiles of anonymous individuals, store summary data about each individual, and share their data with advertising systems.
DMPs are used to store, manage and analyze data about ad campaigns and audiences. A DMP connects to a demand side platform (DSP) or supply side platform (SSP) to purchase ads through ad networks. A DMP ingests anonymous identifiers for your customers, matches these against third-party lists, builds a lookalike model with summary data, selects similar anonymous individuals from third-party lists, and sends those lists to advertising systems.
Read More: CDP Vs. DMP: How To Get The Best Value Out Of Customer Data
What is a CRM?
Customer relationship management platforms are designed to help organizations manage the contact information of prospects and customers. Sales channel interactions, as well as contact center and customer support call are also typically included as data points within a CRM.
A CRM system is used to track and record touch points along the customer journey, from pre-purchase, to purchase, to retention and advocacy. The system enables organizations to record customer interactions (e.g., phone calls, including dates, times and call transcripts), as well as customer purchase history. CRM systems help organizations provide better customer service and customer experience. When used effectively, CRM systems can help retain customers and grow revenue.
Read More: CDP Vs. CRM: How To Master Your MarTech Stack
What is a Data Warehouse?
Data warehouses can receive large amounts of information from databases. Using a process called extract, transform, and load (ETL), data warehouses clean, summarize, and shelve data in a frozen state.
In a data warehouse, data is organized and secure in that it can't be deleted, but without a CDP's actionable capabilities, it's less usable. A data warehouse's rigidity means your business may find itself conforming to a data collection system rather than vice versa.
Read More: CDP Vs. Data Warehouse: What's Best For Your Business?
What is a Data Lake?
A data lake accepts every kind of data in its original form, including unstructured or semistructured data, like videos, PDFs, recordings, and online reviews. Given a data lake's extract, load, transform (ELT) process, your business can use a data lake as a depository, defining organizing criteria after storing. Purposes for data lakes include using machine learning to create predictive models and forecast trends.
Choosing the Right Customer Data Platform
A customer data platform may be the right choice for your organization if you need to improve the overall customer experience with data driven-insights, as well as make your marketing operations more agile and efficient.
A CDP can unify customer data from all your channels and disparate silos to create a single customer view that can serves as the single source of truth across your organization. This unified view allows marketing, service, and sales teams to easily analyze customer data and identify critical segments to deliver more relevant, contextual, personalized, and consistent messaging.
Want to learn more about how to choose the right customer data platform for your organization? Our comprehensive guide explores the key steps needed to create a successful CDP evaluation and selection process – from the capabilities to consider, to the questions you should ask prospective vendors to make sure you're making the right decision. Access your copy of our guide here.