Great customer experience (CX) is demanded by every one of your customers, but too often, the work to create those experiences is left to the marketing or customer experience team. The reality is that customer experience comprises all customer interactions with your company, from marketing to customer service and support.
Customer service support has traditionally been reactive, but with the availability of data, artificial intelligence (AI) predictive technology, and new digital tools like chatbots, along with growing customer expectations, customer support is becoming more proactive. As a result, it's playing a greater role in improving customer experience and loyalty.
Successful organizations are exploring new ways to improve customer experience by collaborating closely with their customer service and support teams. But why is customer service so important to customer experience, and how can you develop the right customer data strategies to empower your organization with the right insights?
The Impact of Customer Service and Support on Experience
Sometimes there is confusion between customer service and customer experience. Where customer experience relates to all interactions and experiences with a brand, customer service and support relate to efforts to help customers use a brand's products and services. In short, customer service is an element of customer experience.
Customer service has the ability to impact the customer's overall perception of the brand positively and can drive loyalty and retention. But it depends on the quality of the service. Gartner talks about value enhancement in customer service to drive loyalty. Brands that provide only basic customer support mitigate disloyalty, but that doesn't ensure their loyalty, nor does it ensure retention or create advocates for the brand.
A brand that provides value above and beyond the basic support experience and helps customers improve and increase their use of products and services can boost loyalty.
Great Customer Service Improves Customer Loyalty and Retention
HubSpot's State of Customer Service 2022 finds that customers expect responses to their issues and questions in minutes, not days. They also want self-service, but expect agents to be available for more complex issues. Most importantly, consumers expect all interactions to be contextual and personalized.
According to Gartner, customers that receive extra value during a service interaction are:
82% more likely to repurchase or renewal when presented with the change to switch
86% more likely to increase wallet share
There's a catch, though. Most brands consider their customer service department an expense and not a growth opportunity. As a result, they don't provide the tools and capabilities support agents need to provide extra value. In fact, according to HubSpot's study, half of all customer service agents are expected to support cross-sell and upsell goals, while struggling to manage difficult conversations.
How AI and CDPs Help Organizations Connect Customer Service to the Entire Customer Journey
Tools and technologies like AI, predictive technology, and chatbots can help customer service agents improve support experiences. Add to this a customer data platform (CDP), and you can connect your customer service to the entire customer journey.
Empowering Customer Service with Customer Data
One of the first challenges you'll need to tackle is unifying your data silos and making that data available to support teams. That's where the CDP comes in. It can ingest data from all your applications, build a 360-degree customer view, and feed that view into your support applications. Support agents then have a complete understanding of a customer's interactions with your brand and can use that information to tailor the support they provide.
Next-Best Action Recommendations
CDPs that leverage AI and machine learning can provide customer support agents with next-best action recommendations, including new product features to use, new use cases for the product, or add-on products that would help them achieve their goals. CDPs can also help identify and prioritize customer segments, ensuring that customers with high customer lifetime value (CLV) are provided with highly personalized support from top agents.
Personalized Chatbot Interactions
Call centers can also implement virtual assistants and live chat solutions to help customers, but they need to be careful. According to a 2022 consumer study from CDP.com, while consumers are beginning to see the benefits AI has on customer service, only 34 percent of believe that interacting with a chatbot truly helps address their specific needs.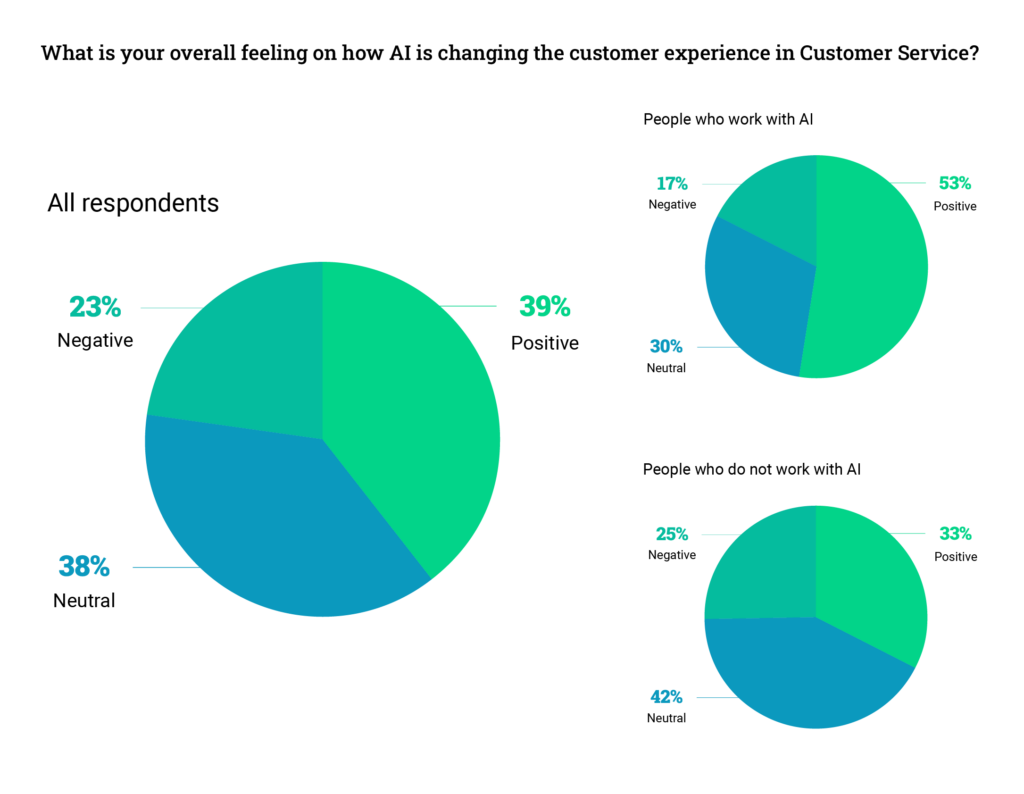 Chatbots that integrate customer profiles and purchase histories are better prepared to help customers with their questions. At the same time, they have the information needed to offer personalized incentives and relevant offers, improving the customer's experience. If a customer does need additional support, they could then be connected to a live agent based on their profile information. It's this connection between digital chatbots and live support that's critical.
Protecting Data Privacy
Privacy and trust will continue to be a customer concern and a top brand consideration. In the CDP.com study, 81 percent of consumers express concerns with how AI is used for recommendations, customer service, and support. But they also still want the personalization that AI brings to support experiences. Brands must implement robust data governance tools, policies, and practices that ensure data processed and shared with customer service teams is safe and secure.
Are You Building A Data-Driven Customer Service Organization?
Customers have higher expectations for customer service and support than they did in previous years, and it's only going to grow. It's critical for customer experience, loyalty, and retention to treat customer service and support as more than a cost center. Tools and technologies, like AI and CDPs, can help you offer customers the support they need.