On May 22, marketing leaders gathered in Denver, Colorado for the Gartner Marketing Symposium, a three-day deep dive into the biggest trends defining marketing today. The conference kicked off with a keynote presentation from Carlos Guerrero, VP, Advisory, and Lizzy Foo Kune, VP Analyst, Gartner, who had one simple, yet powerful message: Marketers need to deliver profitable growth at all costs.
According to Gartner research, 38 percent of business leaders have shifted focus from revenue growth to margin growth, and 67 percent of CFOs believe the last three years' digital spending has not met enterprise expectations.
The rapid impact of generative AI, coupled with economic uncertainty, and a race for the right tech talent in a tight labor market have all created a demanding environment for marketers. This puts incredible pressure on marketing organizations to prove ROI and increase operational efficiency. Seventy-five percent of CMOs agree that their organization faces pressure to do more with less in order to deliver growth in 2023.
The Armor of Activity
This pressure to prove value can often lead marketing organizations to over-invest in activities in order to demonstrate success. To combat this new and challenging environment, Gartner makes the case that marketers are errantly taking on the "let's get ourselves super busy to prove our worth" mentality. To defend their role in the organization and prove their worth, they feel they need to do "more."
In reality, though marketers may feel pressure to do more, but that's not the answer – especially when it comes to managing data and delivering personalized customer experiences. According to Gartner research, marketing organizations currently manage 9.1 marketing channels on average. But, while the amount of channels marketers manage is growing, the use of marketing technology within organizations has decreased from 58 percent to 42 percent from 2020 to 2022.
You'd think more channels means more data to collect and use to create personalized experiences. However, Gartner warns of becoming too customer obsessed, or in "a state of hyperfocus on uncovering, generating, tracking, and responding to customer signals." This hyperfocus doesn't necessarily mean better outcomes – 72 percent of leaders say that increased data collection doesn't always yield results, and 62 percent of consumers say they don't necessarily want to receive more relevant messaging in exchange for their personal data.
62% of consumers say they don't necessarily want to receive more relevant messaging in exchange for their personal data.
The cycle of "more" needs to be broken. But, what does this mean, and how did marketers get here?
The Problem with Personalization
Marketers need to stop doing personalization for personalization sake. Instead, we need to apply the same "less is more" mindset, and "quality over quantity" approach to our personalization practices.
Customer data platforms (CDPs) play a critical role in empowering "strategic personalization." Using the data foundation, the segmentations, the rich analytics, and AI, the CDP helps you deliver less, but more powerful, personalization.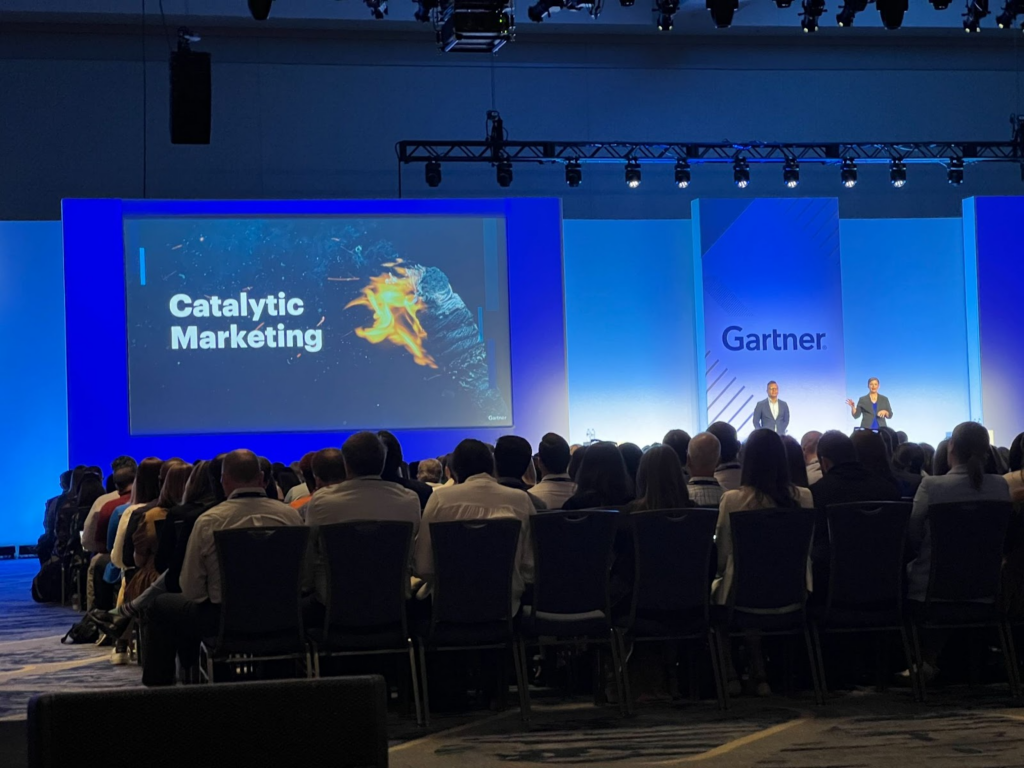 A Shift to Catalytic Marketing
So if more isn't the answer…then what is?
According to Gartner, marketers should focus on providing what they describe as "catalytic experiences," or experiences that "change customers in some way" and "makes them feel more confident moving forward."
If marketing is a team sport, think of it like baseball. Do you want to hit a bunch of singles, or do you want to swing for the fences and connect on a home run?
In terms of efficiency, this means focusing on impact. Instead of those 20 smaller marketing activities that take up time and resources, focus on a few major marketing engagements that really resonate with your customers, and drive the right ROI. Instead of inundating customers with personalized offers at every possible moment, focus on creating highly valuable moments that are memorable, and life-changing.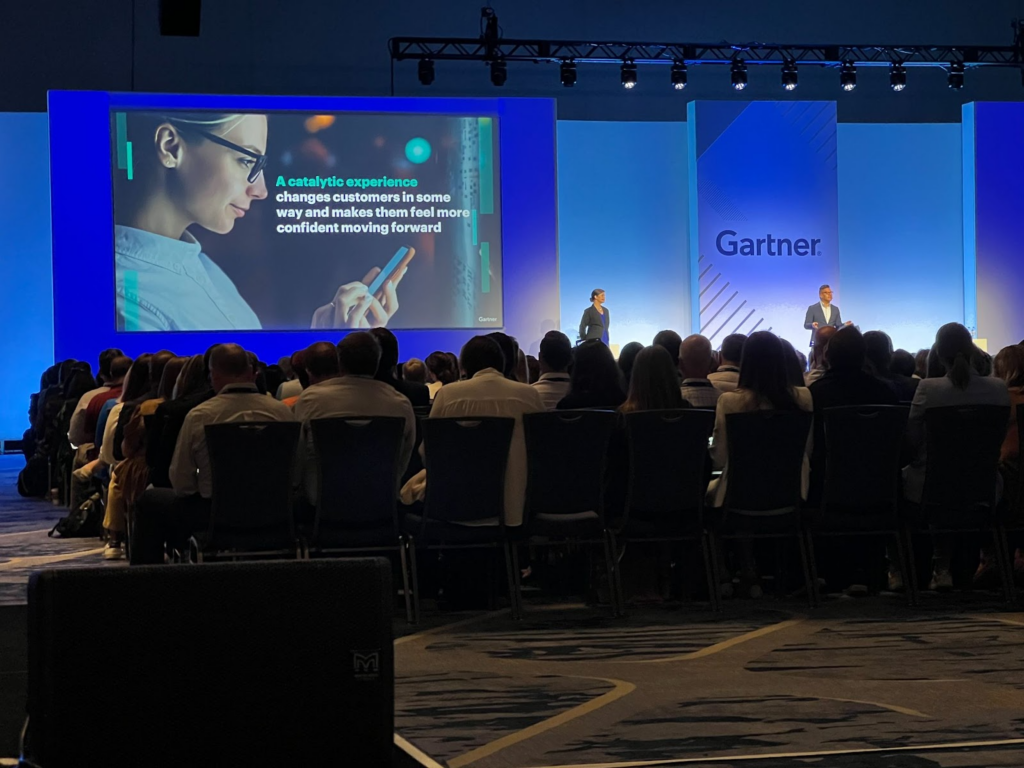 Delivering Clarity with a CDP
For those reading this who may think: "well, I guess this means I don't have to invest in data…" Think again.
Shifting to a catalytic mindset may seem like a disruption. But you can't do catalytic marketing without the power of a connected data foundation provided by a CDP.
A CDP can help you get the clarity you need to make the right connections, while using your data more effectively in a number of ways – if you prioritize your goals effectively. Here's a few examples
| | |
| --- | --- |
| CDP Goals in 2022 | CDP Goals in 2023 |
| Improve Customer Experience >>> | Drive Profitable Growth |
| Do More Personalization >>> | Deliver Catalytic Experience |
| Unify and Enrich Customer Profiles >>> | Leverage Unified Profiles Effectively |
Delivering Catalytic Customer Experiences
Some customer data platforms are equipped with artificial intelligence capabilities that enable advanced predictive modeling. When combined with a CDP's ability to segment audiences based on highly targeted attributes, marketers can gain a more comprehensive understanding of unique customer journeys.
Creating catalytic customer experiences means focusing on big moments that matter. Transparency into the customer journey can identify moments when marketers can really lean in. Conversely, it can also identify moments where audiences can, or even should, be suppressed from marketing activity. This way, customers only receive communications that make a true impact. AI-powered next-best action capabilities can help surface these decisions, and help marketers think strategically about making an impact.
A New Definition of Data-Driven Customer Experience
Gartner's keynote was certainly an eye-opener on the realities that marketers face today, and the challenges of finding the right balance when it comes to using data efficiently and effectively. But after the talk, there were some silver linings among the crowd. One marketing leader I spoke to was enthusiastic about how a CDP could help address some of their small marketing team's challenges when using data to refine their strategy. For them, it was all about doing more with less and delivering the results they needed.
In 2023, marketers must shift from hyper focusing on personalized customer experiences, to delivering profitable growth. Let's be clear, though – the answer is not to stop personalization, or to stop collecting data, or to stop investing in your CDP. In fact, it's quite the opposite.
Doing great marketing while meeting the "profitable growth at all costs" expectation means you must complete the swing on your data foundation. If it's a solid foundation, you are set to win in this new world. If it's not, you are at risk. Finish stabilizing your data foundation before you continue throwing time and money at the end points. If it were me, I'd be placing my bets on getting the data foundation right with the right CDP.
It's about using data to focus and work smarter. As Linda Rendle, CEO, Clorox said:
"We had our highest ROI marketing in this last period due to the personalization efforts that we've taken out…it's allowing our money to work harder."