Today's customer journey is more complex than ever, and takes place across more channels than ever before, making modern customer journey orchestration particularly challenging. Digitally-centric and digital-first customers may be interacting with your brand through display advertising, social media, web, in-person, or through a call center. Marketers need to be able to combine both physical and digital customer data that comes through these channels to understand their customers better across all channels. This will allow them to engage a single customer view (SCV) unified profile across platforms, not as separate individual encounters that are unconnected.
In order to manage and tailor the full customer journey effectively, marketers must have a deep understanding of their customers across all touchpoints (including behavioral, transactional and identity data) persistently over time. However, marketers who plan and execute traditional push marketing campaigns are challenged to glean in-depth insights into their customers wants and needs, and tailor the customer experience (CX) in real-time.
Customer journey orchestration enables marketers to analyze customer interactions throughout the entire customer journey and deliver appropriate contextual messaging where and when those customers want to be. Until you define customer journeys across multiple scenarios, you really won't be able to understand in-depth how customers and prospects engage with your business.
Customer journey maps deliver actionable insights on how people become aware of your brand, what makes them convert or transact with you, why they leave, and why they come back. Through the creation of customer journey stages, marketers can visualize the engagement consumers have with their brand, giving them deeper insights into the channels they use, and the messages that work best to engage and convert at each stage in a customer journey map.
While there are many tools and solutions that can help manage and orchestrate the customer journey, Customer Data Platforms (CDP) are both designed to gather and integrate customer data from multiple disparate data silos, while some enterprise-grade CDPs also have journey orchestration capabilities integrated into the CDP platform.  
What Is the Customer Journey?
The customer journey refers to the full lifecycle of the relationship between an organization and an individual customer. Rather than focusing on a single transaction or event, the customer journey represents the full duration of a customer-business relationship across multiple interactions. The customer journey goes across every touchpoint, from awareness to acquisition, to loyalty and advocacy. 
While customer journeys are related to the overall customer experience, the two terms are not interchangeable. The customer journey refers to the actual interaction, both physical and digital, between a customer and business. The customer experience refers to how a customer feels about your company and its brand based on those interactions over time. 
Customer Journey Orchestration Mapping
A customer journey needs to be documented and mapped to be useful and able to be orchestrated. There are a variety of different types of maps and processes to create a customer journey map.   
To begin, map out your typical customer journeys and what data feeds into each phase to enable customization. The type of journey map you use will depend on your business model and needs. 
For instance, the customer journey map example below is a current-state customer journey map, which helps marketers understand how their customers currently feel. Current-state journey maps outline everything your customer currently does, thinks, and feels when interacting with your company. This type of customer journey map is critical for a planning and executing customer-centric business strategies. 
Check out this article for The Complete Guide to Customer Journey Mapping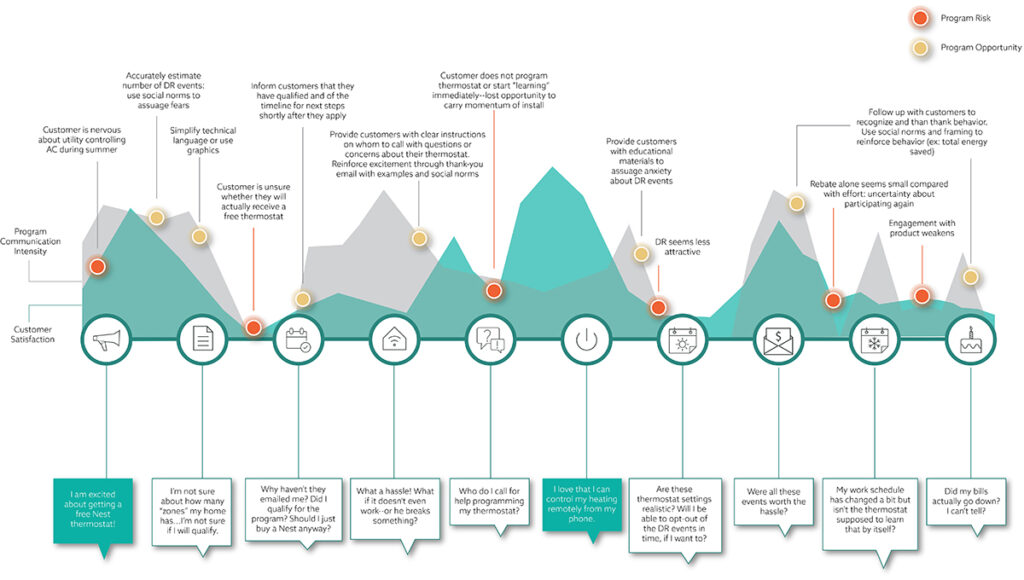 Other popular customer journey maps include day-in-the-life journey maps, which are similar to current-state maps but paint a more detailed image of the customer by including activities unrelated to your company. Future-state journey maps seek to improve customer interactions by imagining what the most ideal interaction might be, and identifying the steps to get there. Finally, there are service blueprint customer journey maps which start with any of the above three maps, then layering on the systems needed to deliver high-quality customer experiences. 
Check out this article for detailed steps to create your own customer journey map template.
Customer Journey Orchestration with a CDP
Advanced, enterprise-grade customer data platforms allow you to ingest, integrate and store customer data. Some really smart CDPs that leverage AI can also analyze and segment customer profiles using rules or machine learning, providing customer journey orchestration capabilities. With a CDP and the right advanced tools and capabilities, marketers can get the automation and technical foundation they need to manage the full customer journey across both physical and digital touchpoints.
A CDP with artificial intelligence (AI) and machine learning (ML) capabilities allows marketers to process massive amounts of data, identify trends, spot patterns, and recommend next steps, resulting in a more accurate view of the customer journey than you ever could by manually processing the data. AI and ML gives businesses a more accurate customer profile and actionable campaign suggestions that result in increased customer loyalty and improved campaign performance. AI-powered CDPs lead to a more fluid and dynamic customer experience that is tailored in real time.
By using a CDP to analyze customer data, you can find out what traits are common to your most valuable customers, which customers are likely to buy soon or require further nurturing, which customers are likely to churn, as well as actionable recommendations for cross-selling and upselling.
This allows for the creation of more complete and detailed customer segments. With more effective rule-based or AI/ML-based audience segments, marketers can improve targeting and personalization across the full customer buying journey. With machine learning algorithms, predictive scoring can be deployed so marketers can enrich their profiles with expanded data sets beyond manual tabulation. Advanced customer segmentation provided by a CDP allows marketers to identify and target advocates more effectively, predict customer churn, identity upsell and cross-sell opportunities, and deliver more relevant recommendations based on purchase history.  
Conclusion
Every buyer's journey is unique. Tracking and affecting the full buyer's journey requires customer-centric positioning across an entire organization, along with investment in the technology, skills, talent, processes, and infrastructure needed to execute successfully.
Defining what customer centricity means to your organization means establishing what a consistent, relevant, and personalized experience means to your customers. Any company that is looking to manage customer journeys with technology needs to have undergone, or be in the process of, a successful digital transformation.
Deploying the right technology platforms and tools are critical for success, since marketers simply cannot manually interpret and program campaigns and messaging to affect and trigger each phase of the modern digitally-centric buyer journey.
Intelligent data management platforms like a CDP, equipped with AI/ML functionality for segmentation and orchestration, can be leveraged by marketing to automate management of the customer journey. A CDP gives organization insights about customers behaviors and actions over time, allowing them to tailor the customer experience to convert more effectively at different phases of the full buyer journey.