If you're already heavily invested in MarTech, you might wonder where you might integrate a CDP in your MarTech stack, and how you'd use it with all your existing marketing technology. The need for a customer data platform (CDP) is clear: Companies need to provide a unified, consistent experience and single customer view in all channels. To do that, they need to combine customer data across silos to get a complete picture of the customer's relationship with the company.
A customer data platform connects these data silos and helps provide consistent experiences across all touch points and channels. But when it comes to the CDP, people are often confused about where exactly it fits into the MarTech stack, along with other data management solutions, like a customer relationship management (CRM) platform, data lake, or a data management platform (DMP).
According to David Raab, CEO of the CDP Institute, in a webinar on the subject, the confusion is understandable. After all, there are hundreds of CDPs on the market, and they are not all the same. So it's time to step back, look at the big picture, and figure out where and how the CDP fits into your MarTech stack to provide centralized data management capabilities other platforms cannot quite match.
CDP Integration: The Big Picture
There is one thing all true CDPs do: they build unified customer profiles, sometimes called single customer views (SCVs) or golden profiles. Everything else a CDP does stems from that single critical capability.
But there's more to a CDP than just building a unified profile. Let's look at all the different features customer data systems can offer.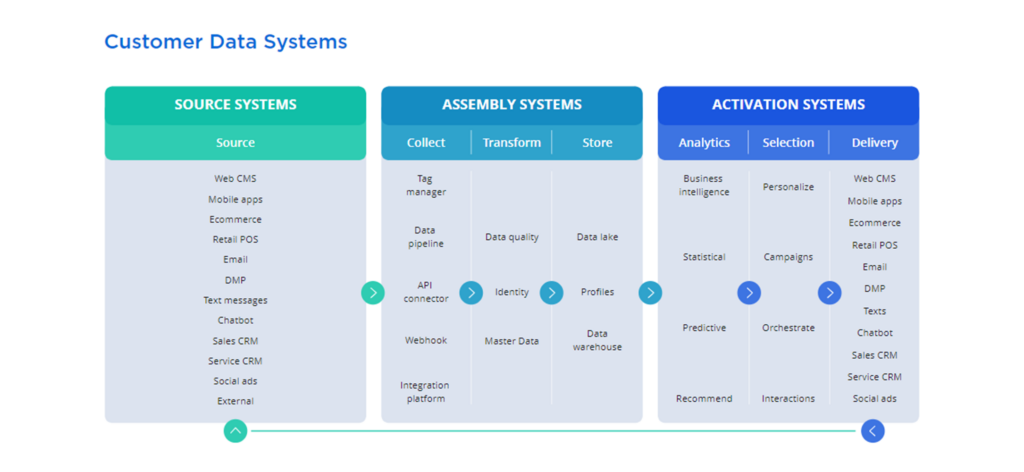 Most companies have a number of systems that manage some type of customer data, and they fall into three broad categories:
Source Systems: Systems that capture data directly (website, email, CRM, DMP, etc.)
Assembly Systems: Systems that ingest customer data from original sources and assemble profiles (including data collection, transform, and store data)
Activation Systems: Systems that use assembled data (analytics, message selection, delivery)
Quick Tip: Point Solutions are not CDP Solutions
Some end-to-end point solutions look like a CDP, but they aren't. For example, an email solution might add features across the assembly and activation categories. It might even add in an additional data source, but mostly it creates another data silo, not a unified profile.
The Minimum Viable CDP
Remember, all true CDPs build a shareable customer profile that is unified, persistent, and comprehensive. This unified profile can serve as the single source of truth across an organization regarding a customer, so the entire company is in sync on the data and persona they are modeling against.
Per the CDP Institute, a CDP is defined as a "packaged solution," which means it provides additional capabilities that help marketers assemble and activate data across all channels. CDPs are the only system designed and optimized for this purpose.
A minimum viable CDP must have a particular set of features that fall into the assembly category, including:
Data pipeline and API connection for collecting data
Data quality for transforming data
Data lake and profiles to store data
But this is just the start of what a CDP can do.
Beyond the MVP: 6 Core Capabilities of CDPs
It's easy to get lost with hundreds of CDPs in the market, all coming from different origins, all with varying features. Although some meet the minimum viable CDP feature set as defined by the CDP Institute, others go beyond and are more sturdy enterprise-grade platforms for global omnichannel marketing requirements. CDPs will have capabilities from some or all of these six areas.
Data CDP capabilities: May come from tag manager legacy software. Include data lakes, data pipeline, profiles, data integration capabilities.
Analytics CDP capabilities: May have predictive models, recommendations, and business intelligence.
Campaign CDP capabilities: Includes personalization, orchestration, and campaign management features.
Delivery CDP capabilities: Sending messages to channels for activation.
Operational CDP capabilities: For optimizing and management of business processes and message delivery.
Enterprise CDP capabilities: An enterprise-grade CDP has all of the capabilities mentioned above in a single package, and is built from ground-up as a dedicated centralized data management solution with APIs for connectivity and interoperability.
Connecting data silos using a CDP and providing additional features across assembly and activation benefits companies in two ways. First, it enables marketers to make more profitable decisions because they have that complete, accurate view of the customer and their interactions with the company. And second, it helps reduce costs by eliminating duplicate functions across systems.
Find the Right CDP for You
Before you begin the process of selecting a CDP, you should ask yourself some key questions:
What do you want to accomplish?
What's stopping you from doing it?
What CDP use cases should you focus on to achieve your goals?
Is a CDP the best solution to meet your goals?
Once you understand your business objectives and see where the gaps keep you from achieving them, you can decide if a CDP is what you need. By mapping out your use cases, you'll see what CDP features you need, which will help you decide what type of CDP to purchase. It will take a bit of work, but in the end, you'll end up with the right CDP for your needs.
For more information, you can download the whitepaper, "Where CDP Fits In Your Tech Stack" from the CDP Institute and Treasure Data. It covers how CDPs compare to DMPs, Master Data Management, Data Lakes, CRM and other systems.