The 2021 CDP Institute Member Survey is out, and there are some interesting findings and emerging trends highlighted in this year's report. One key finding is that consumer businesses (both B2C or B2B2C) are increasing their customer data platform (CDP) deployments. In 2017, 10% of these companies were deploying a CDP, but in 2021, 24% were deploying one. It's also worth noting that more consumer business marketers were among the respondents over past years.
The Path to CDP Success
The theme of this year's report focused on what's working and what's not for companies who have implemented, are implementing, or planning to implement a customer data platform (CDP). The report breaks down the survey results by type of company (i.e., B2C, B2B2C, B2B, or Martech vendor), and while there were some differences between company types, there were also a lot of similarities.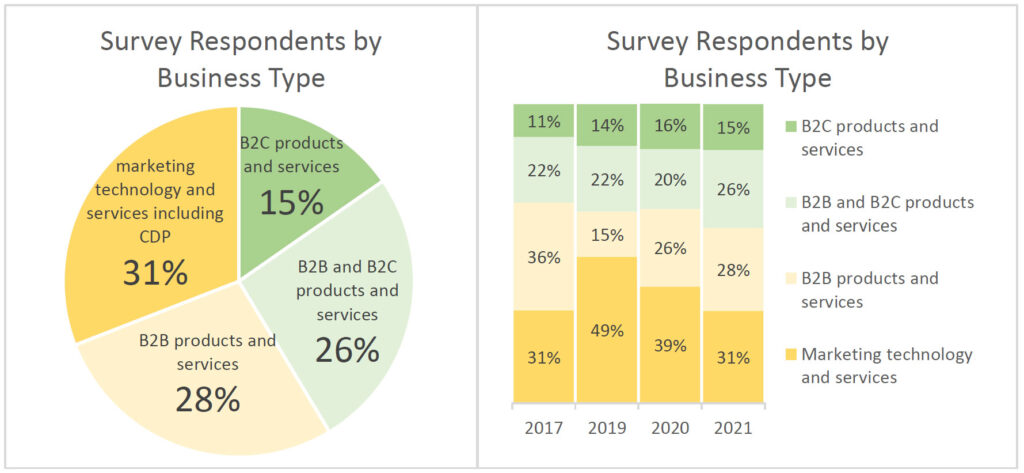 For instance, the report found that the biggest challenge for all companies implementing a CDP is organizational readiness. In the end it's not about the technology; it's about whether the organization has put in place the people, processes, and support needed for a successful CDP implementation. The takeaway for companies is…
Don't treat a CDP implementation like a technology project.
Marrianne Hewitt, a strategist with The Growth Strategy Group, said this about organizational readiness, "It starts with executive sponsorship, which ensures budget and resources. Lack of both is cited in the survey. Organizational readiness includes engagement and commitment to success throughout the organization and includes recognizing data as a strategic asset and treating it as such."
There is one caveat, though. Martech vendors themselves did not say organizational readiness was the most common problem. Instead, vendors stated the top problem for a successful CDP implementation was input data. This makes a lot of sense considering bad data is the most common CDP delivery issue.

Hewitt makes a good point here as well, "We've never really nailed the data problem after billions of investment over the years. The survey shows that martech vendors cite bad data as a root cause challenging success. But it is not bad data alone. In fact, I believe (decades of) bad data is a symptom of lack of executive sponsorship."
Start With The Basics
A customer data platform provides a lot of features and capabilities that benefit marketers. But when implementing a CDP, it's critical not to expect everything to work perfectly out of the gate.
58% of respondents with a deployed CDP said the CDP delivered significant value.
These high-value CDP owners say the top benefits of the CDP are a unified customer view (88%) and analytics (54%). Regarding the most important capabilities, high-value CDP owners said loading data from all sources (75%) and identity matching (57%) were the most important. It's not that the other capabilities weren't critical, but when you are just getting started, it's vital to focus on getting the basics in place.

We see this is true when we look at companies who aren't seeing as much value from their CDP implementation. These are low-value CDP owners. These companies said message selection was the top benefit of a CDP at 71%, followed by a unified view, analytics, and predictive analytics. In terms of top capabilities, identity matching was number one, with data sources and self-service capabilities falling next on the list. Overall, low-value CDP owners tend to focus on more advanced capabilities, which often depend on factors beyond the CDP. As a result, these capabilities take longer to implement, and the benefits take longer to reach.
CDP Success Requires Management Support
Many issues can impact a successful CDP deployment, and high-value CDP owners have had their share of issues. One of them is not lacking management support. The biggest obstacle in the actual CDP project was getting the data into the CDP from across the company and underestimating the resource requirements to accomplish it. On the other hand, low-value CDP owners did say lack of management support was a major obstacle. This group also stated that getting cooperation from marketing and IT was a challenge, along with failing to define requirements properly and picking the wrong CDP.
A CDP is built to provide cross-organizational support. To ensure it can do that, everyone needs to work together to define requirements and select the right platform. Management support is key to this process.
Privacy is Taking a Hit
Dealing with data privacy regulations and guidelines has always been a challenge for companies, but it's key to a great customer experience. Unfortunately, dealing with the challenges of the pandemic took priority over privacy this past year, with the report showing a slight drop in privacy compliance overall. More concerning was the more significant decrease in companies trying to meet the baseline legal requirements for privacy (from 28% down to 22%).
We're Getting There
The report delivers a lot of promising results in terms of CDP implementations. Companies still in the planning stages can take away key learnings from those that came before.
Hewitt summarizes the report best, "I find the survey energizing. It demonstrates the evolution of data management continues as the technology available to us to manage that data becomes more sophisticated. CDPs are the answer to decades of data mismanagement. We are on the cusp of solving that failure. Getting to a high-value CDP implementation is a transformational initiative. It is ongoing and requires continued attention and investment."