Artificial intelligence (AI) has completely transformed how marketers and customer service professionals communicate with consumers. The ability to analyze and process millions—if not billions—of data points in near real time has unlocked enormous potential to experiment with personalization in new and interesting ways.
While the value of AI may be apparent to marketers, consumer perception of this technology isn't as clear. CDP.com asked 2,500+ adults in the United States to share their opinions on how AI is changing marketing, customer service, and the customer experience. Here's what we found:
1. People are in favor of companies using AI for personalization, but prefer when it's direct
Eighty-one percent of consumers are open to AI being used by marketing to deliver personalized recommendations about products and services, with some caveats. Nearly half (44%) of consumers say they're open to AI-powered recommendations, but it "depends on the company," which says a lot about how important a company's reputation for data transparency is for customer trust. .
When asked about preferences, 58 percent of people say they want companies to offer product recommendations based on their search history, and 51 percent prefer entertainment recommendations based on things they've liked or watched before – both of which stem from direct interactions with a specific company or brand.

How accurate are these personalization efforts today? We found that while marketers are mostly getting it right, 58 percent of people still think personalized recommendations are only "somewhat accurate." This means there's room for improvement to make communications more relevant and contextualized to unique consumer needs.

A focus on establishing first-party relationships is key here. Consumers interact with brands directly both online and offline throughout the customer journey. Aggregating owned data alongside other data sources into one unified customer profile, or single customer view, allows marketers to get a more contextualized view of how an individual prefers to engage across channels, so they can deliver the right recommendations at the right time. For the broader organization, connecting this data with other internal data sources – like inventory or supply chain data – can help drive strategic planning around product development, inventory, or predicting demand, all of which can improve the customer experience over time.
2. Familiarity with AI impacts perceptions on role in customer experience
Overall, people are open to AI's influence on customer experiences, with a majority expressing positive or neutral views of the technology's role across industries. People expressed the most positive outlook on AI in entertainment (54%), shopping (51%), healthcare (48%), and advertising (44%)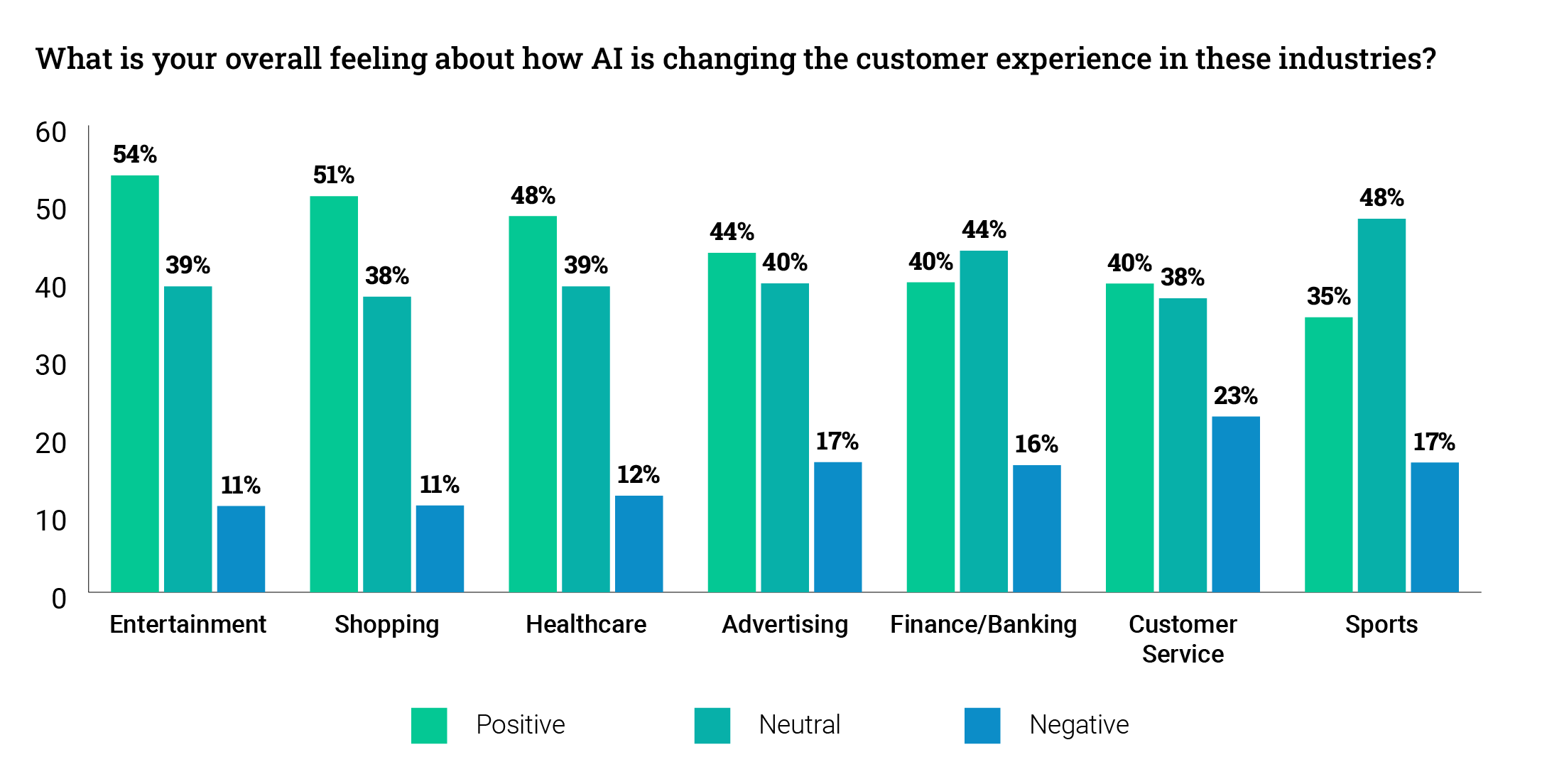 We also wanted to see how much a person's familiarity with AI impacted their broader perception of AI in everyday life. Of our respondents, 35 percent said they regularly use AI-powered tools or services at their job or at school. This group of respondents was more likely to express a positive sentiment on AI's impact on customer experiences across other facets of their everyday lives.
3. AI in customer service still requires a human touch
Where things shift, however, is customer service. Twenty-five percent of people expressed a negative sentiment around AI and the customer experience – higher than any other industry.
Nearly 53 percent of people say they've interacted with an AI-powered chatbot over the last 12 months. This number is significantly higher among people who use AI tools or services at work (72%). Despite growing popularity, only around 34 percent of people find that AI chatbots are actually helpful, with nearly 44 percent saying there is room for improvement. More than 20 percent find the experience irritating or time consuming – in other words, a poor customer experience. When asked what could be done to improve customer service, 64 percent say access to live people would significantly improve their experience.
AI-powered chatbots allow people to troubleshoot issues or find answers to questions on their own, potentially reducing friction by providing the convenience of self-service. Customer service agents provide an additional level of expertise, guiding consumers in person, on the phone, or through live chat when issues are more complex or specific.
Instead of working as two separate entities, AI chatbots and live agents should work in tandem. A strong data foundation and a singular view of the customer, powered by a customer data platform, can connect both efforts to deliver highly relevant and helpful customer engagements.
4. Data privacy is critical to earning consumer trust
Marketers and customer service professionals need to have a deep understanding of customer data in order to get personalization right, and must be able to collect and analyze that data effectively. However, while people generally are open to AI and its role in personalization, data privacy remains a primary concern among consumers as they consider how they share their personal information.
Nearly 82 percent of consumers say they are somewhat or very concerned about how the use of AI for marketing, customer service, and technical support could potentially compromise their online privacy.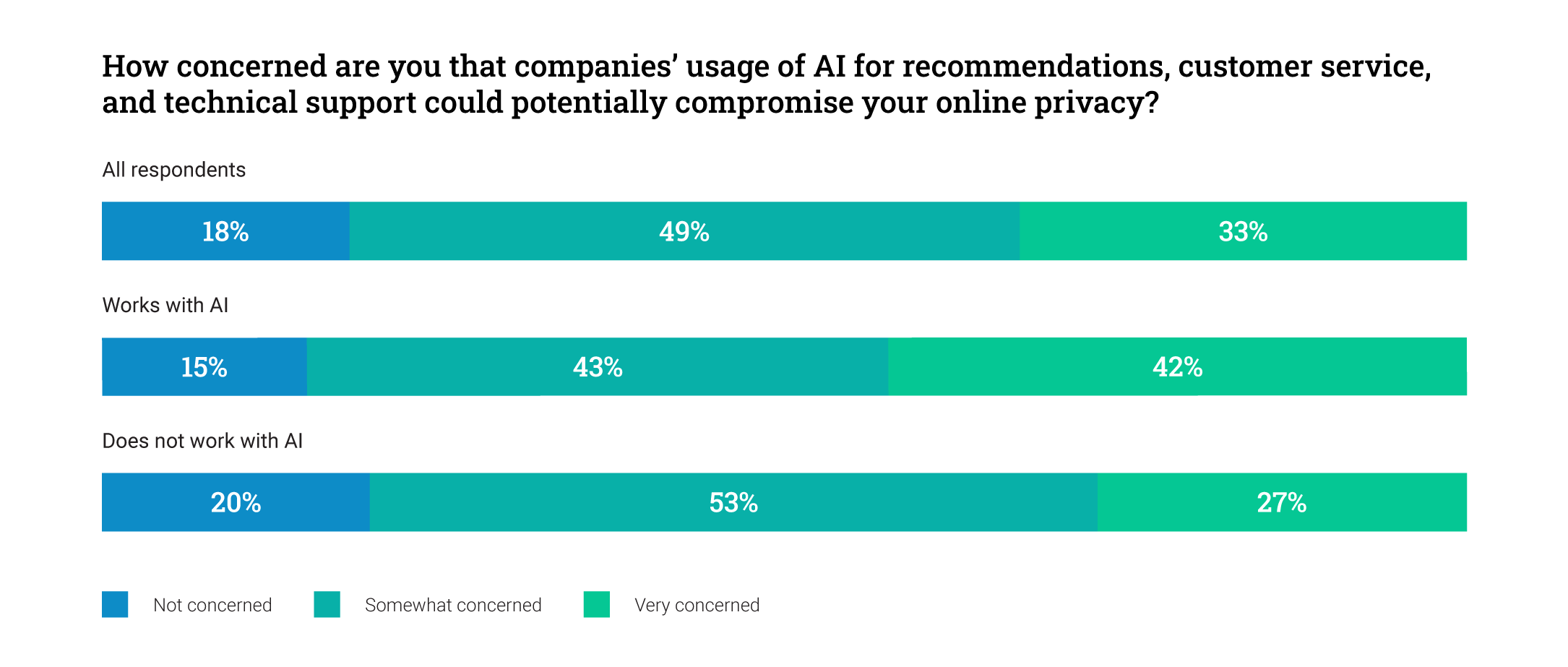 Organizations need to build trust with consumers so they feel more confident that their data is safe and will be used responsibly when creating personalized experiences. This will help foster better relationships, and ultimately help brands deliver better experiences and improve customer lifetime value. Internally, a strong data governance policy, tools, and practices can ensure that customer data is processed and analyzed in a secure manner.
For more insights and a closer look at the data, download a copy of the full report here.