Tuesday, May 2 was MarTech Day, a day of celebration and recognition for all the hard-working people in the marketing technology industry.
MarTech Day is the brainchild of Scott Brinker, ChiefMartec, and Frans Riemersma, MartechTribe. It's intimately connected to the annual reveal of their The Martech Landscape, a famous and exhaustive visualization of the entire MarTech vendor ecosystem.
Brinker and Riemersma also hosted a full day of sessions as part of their inaugural Best of Breed Marketing Summit. The summit had a variety of thought-provoking sessions on everything MarTech. Here are some of our key takeaways:
The 2023 Marketing Technology Landscape
The Marketing Technology Landscape graphic grows every year– not just with new vendors and solutions, but with new functionality and features.
In 2023, there were 11,038 marketing technology solutions included in the landscape, an 11 percent increase from last year. This represents twelve years of consecutive growth.
Last year was a challenging year for many software vendors, with 689 companies being removed from last year's graphic– a 7 percent churn rate. That being said, the market continues to grow, with startups launching faster than other companies being acquired or shut down.
The interactive map was also updated with new functionality.
In the 2023 version, you can sort and filter solutions by country, ratings and reviews, year founded, and estimated revenue and number of employees. You can also view the top 10 companies by revenue in each category, and drag-and-drop solutions to create your own hypothetical MarTech stack. Other features include the ability to compare your overall MarTech stack maturity against a database of other companies.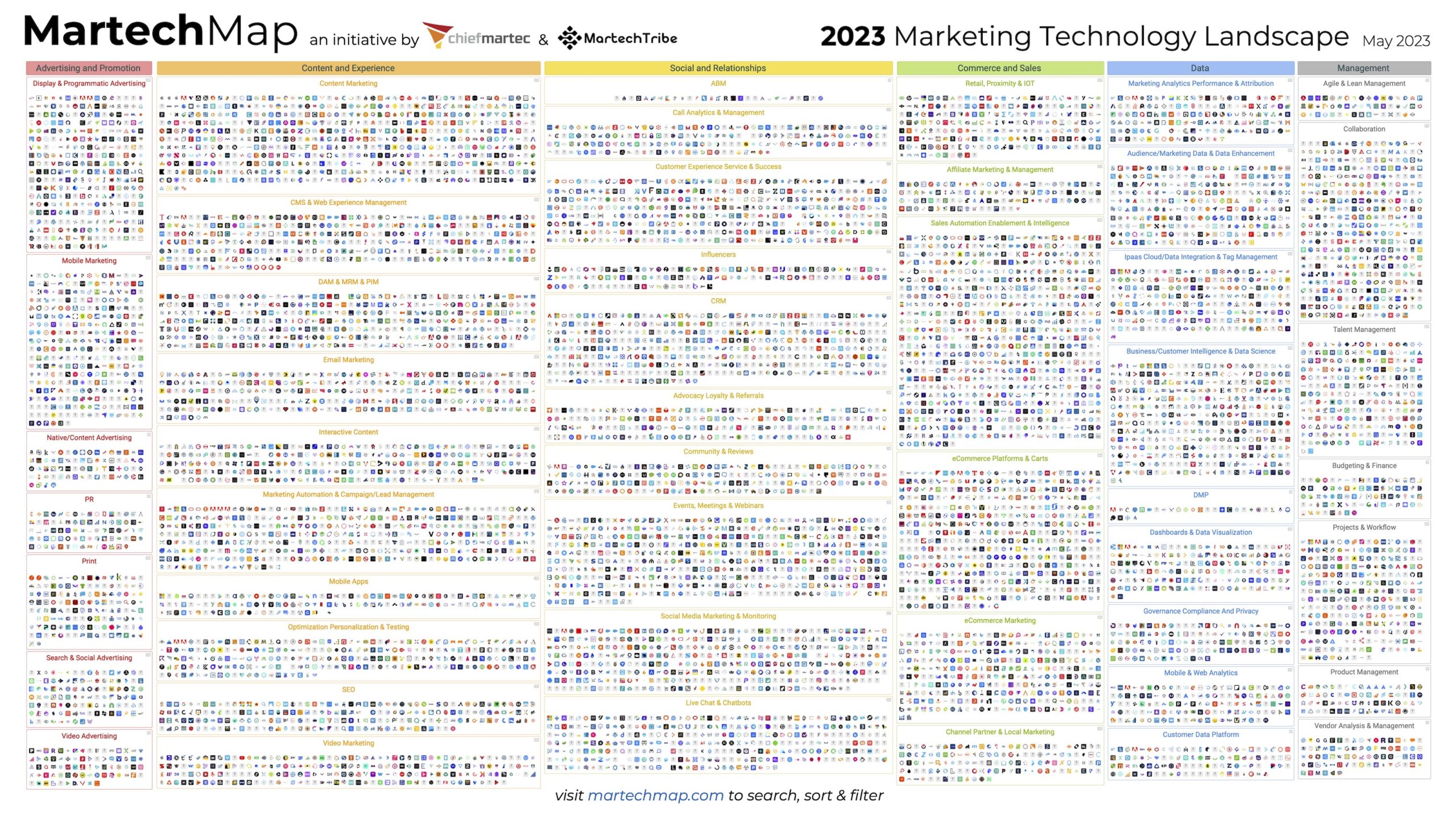 MarTech Day 2023 Takeaways
For this year's Martech Day, there was a whole day of keynotes and sessions on a variety of MarTech-related issues and trends. The sessions will be available online for a few weeks after the summit, but here's a snapshot of what we've learned:
Customer Experience in the Age of AI
Artificial intelligence (AI), has the potential to supercharge the industry yet again as it becomes integrated into all types of MarTech applications.
Dave Edelman, Harvard Business School, discussed the hype surrounding generative AI, showing how real advances in machine learning, technology, and marketing operations are accelerating marketers' ability to deliver personalization at scale.
In the end, he said that AI depends on the quality, breadth, and type of data you have. Getting the right data management solution, like a customer data platform, to manage and integrate data into single customer view profiles should be a top priority for customer experience-focused marketers.
Building a MarTech Business Case
Hans Molenaar, director, Beeckestijn Business School, talked about how to create recession-proof business cases across the business, including areas like brand management, digital transformation, and customer experience.
One of the key points from his session was that marketers are not always able to communicate ROI adequately back to the business. He says that marketers do not speak financial language enough, and they must in order to develop good business plans for MarTech investment.
Understanding Composable CDPs
During this fireside chat hosted by Brinker, Riesmersma, and Justin DeBrabant, SVP Product, ActionIQ, they discuss composable architectures, and how they are used when working with customer data.
Marketing & Ecosystems Across the Customer Journey
According to Jay McBain, chief analyst of channels, partnerships & ecosystems, Canalys, the average B2B prospect will move through 28 moments before making a vendor selection, and use seven partners along the customer journey. In a post-cookie world, vendors need to identify and attribute the partners that helped move prospects through the funnel.
Marketing Amid Economic Uncertainty
According to Brinker, Riemersma, and Jim Williams, CMO, Uptempo, the future is challenging, uncertain, and unpredictable. It's the companies that can adapt to uncertainty and pivot when needed that will be the best positioned to succeed in the modern world.
With budgets already being cut, and with more oversight into marketing technology spend, the group predicted that the next wave of digitization will be through operational optimization, where marketing teams will be required to develop better operating models that help businesses quickly react to changing market conditions.
The group also defined the need for tighter alignment between the CMO and CFO. The CMO needs to start using financial language to clearly communicate ROI to the business. This also requires a cultural shift in marketing, as the marketing team needs to think more like business owners.
Want to see how this year's MarTech landscape compared to 2022? Check our last year's coverage here. Hear more from Scott Brinker on the Customer Data Perspectives podcast.