Brands need to start thinking about long-term value in terms of their marketing technology investments, and for what they bring to the table for their customers, as they look to cut costs and increase oversight amid a challenging economic climate.
Establishing long-term value is all about managing customer data effectively. With a customer data platform (CDP), brands can establish the centralized customer data foundation needed to orchestrate global omnichannel marketing capabilities with proper governance and compliance.
With customer data being central to the development of modern businesses, companies need to ask themselves: Can you really wait for sunnier skies to get your customer data journey kicked off? 
Companies across industries are prioritizing customer data and CDP deployment as part of their digital transformation roadmap. In this article, we'll explore how different industries are using CDPs to kickstart their digital transformation, and drive speed to value beyond marketing.
Read More: 6 Innovative Ways CDPs Are Fueling Digital Transformation
CDP in Retail: An Omnichannel Effort
In retail, how and where customers choose to shop is creating more complex omnichannel customer journeys. In this highly competitive marketplace, retail brands must differentiate to drive one-to-one personalized experiences that build lasting customer loyalty.
Typically, retailers have relied on CRMs and DMPs to manage their marketing and advertising efforts. However, these platforms can be limiting when executing omnichannel retail use cases at scale. Unlike CRMs and DMPs, CDPs combine zero, first, second, and third-party data from different sources and systems to build unified customer profiles that can be used equitably across teams.
For example, Stripe, an apparel retailer and lifestyle brand, is using customer data to improve advertising results and grow its customer base. The retailer scaled their CDP initiative to include personalized customer journeys, synched supply chain systems, and AI-powered capabilities like predictive analytics, targeting, and segmentation. Their efforts resulted in a 70 percent improvement in revenue in only three months, and $220,000 savings in estimated labor costs annually.
CDP in CPG: Taking Control Over First-Party Data
The modern consumer cares more about company values and data privacy practices than ever before. In turn, consumers want the companies they do business with to have similar values. And, given challenges like ongoing supply chain issues, labor shortages, increased competition, and rising inflation, CPG brands must be using their CDP for a variety of needs and benefits.
To meet customers where they are, CPG companies need to get personal – and develop a more comprehensive first-party data strategy.
Using a CDP, CPG companies can personalize customer journeys by enriching customer profiles with first-party data, connected commerce, and predictive analytics. With enriched customer profiles, CPG companies can uncover new insights and opportunities for revenue, while quickly responding to evolving consumer demands.
For example, one global beverage company used a CDP to connect 757 global systems and 70 million unique customer records that were siloed across brands and agency partners into one central location. The company was able to apply AI-powered identity resolution to improve the quality of their newly unified profiles, giving them greater visibility into campaign performance across channels. This led to better operational efficiencies, optimized ad spend, and improved revenue.
CDP in Financial Services: Speeding Up Time to Value
Financial services are a great fit for prioritizing CDP investment. With global customers interacting across multiple channels, financial service companies can improve acquisition, engagement, customer lifetime value (CLV), and retention. They also offer financial companies the data governance controls they need to achieve compliance amid evolving regulations. With a deep level of data analytics and unified customer profiles provided by a CDP, financial services companies can better serve their customers.
For example, one international credit card company was already using its own proprietary DMP, but found it was not meeting all their needs. They deployed a CDP to build unified profiles from 27 million demographic profiles, 5 trillion card usage data points, and data from 15 million online memberships. With a CDP they were able to reduce campaign segmentation times from one week to one day, while providing the built-in data privacy and security features all financial service companies need.
Driving Digital Transformation Beyond Marketing
CDPs are not just for marketing departments anymore. While marketers were early adopters, CDPs are providing value and benefits beyond marketing in many different areas, notably, product development and customer support.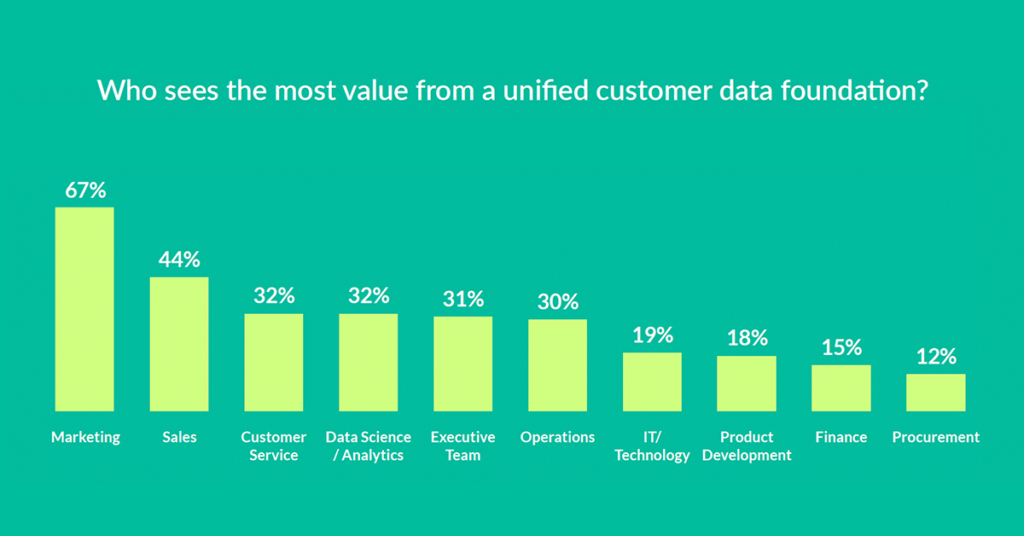 Product Development and Sales
Product development teams can use customer data to help guide decision making based on product usage, sales, demand forecasting, and direct customer feedback. For example, product and performance data can be used to recommend preventative maintenance like an oil change, or to send an automated reminder to replenish consumables, like printer ink cartridges.
Sales teams can benefit from predictive modeling, as customer data can be fed into predictive scoring algorithms to help assess the value of a new lead, estimate risk, and identify the best product or service to offer an existing customer to help move them through the customer journey.
Customer Service and Customer Support
Customer support teams can use customer data to optimize product support experiences based on expected use, skill level, or other relevant variables. Customer service teams can also improve service experiences by automatically retrieving relevant customer profile information to help speed up time to resolution for outstanding issues.
Digital Transformation with a CDP
The right CDP can improve the efficiency of your data-driven marketing campaigns, sales outreach, customer service interactions, and data operations. CDPs can also help you maintain compliant data governance policies, and integrate consent management for omnichannel marketing.
While it is critical for companies to prioritize maximizing the value of their customer data as part of their digital transformation plans, it's important not to rush the process. You want to make sure your CDP investment will continue to drive value for your business today, and tomorrow.
Want to learn more about how to create a CDP roadmap for digital transformation? Our comprehensive CDP RFP guide explores the key steps needed to select the right CDP – from the capabilities to consider, to prioritizing use cases, and the questions you should ask vendors to make sure you're making the right decision. Get your copy of our guide here.